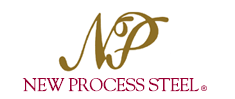 New Process Steel
Maynards Helped with the Relocation of a Factory
New Process Steel manufactures and distributes flat rolled steel and is a supplier for coiled steel used for temperature controller and air compressors housings. Their Houston, Texas location was a working plant. Maynard's appraisal team was impressed with the cleanliness of the plant. It was extremely well organized and the flow of the work was very efficient.
Houston was putting a freeway where the plant was located, New Process Steel was considering moving their facility to Mexico. Maynards was called to conduct Fair Market Value, Forced Liquidation Value and Fair Market Value in Place appraisals on the industrial equipment to help litigate the value of this eminent domain issue.
Because of the eminent domain issues New Process Steel needed an appraisal company that could provided legal testimony and defend the value conclusions. Al Loewenstein and his team conducted the appraisals in 112-degree heat in two buildings, a warehouse and a plant. The assets appraised included larger equipment such as cranes and heavy forklifts.
New Process Steel® is a registered trademark and Property of New Process Steel. Any use of the trademark name is only for comparison reasons. Maynards company is in no way associated with this trademark. Products and company names mentioned herein may be trademarks of other companies.